Spearheading Social Change Through Community Education
CHOICES is approved by NAADAC, the Association for Addiction Professionals. This organization represents the professional interests of over 100,000 addiction-focused healthcare professionals, such as counselors and educators, in the United States, Canada, and other countries.
Individuals participating in educational programs offered by NAADAC Approved Education Providers are assured that the continuing education (CE) hours provided for each course will be accepted toward national credentialing by the National Certification Commission for Addiction Professionals (NCC AP), as well as many of the individual state licensing/certification bodies in the addiction and other helping professions.
Additionally, CHOICES is approved by the following:
CHOICES can blend any course to meet your needs.
Please contact us for more information or call (603) 918-6510.
CurriculumConsulting & Design
Peer recovery training courses are vital in preparing coaches, support workers, and other professionals for addiction-focused healthcare settings. However, substance use and recovery are multifaceted topics that can be challenging to teach and learn.
Develop and improve your training courses with guidance from CHOICES Addiction & Recovery Education. We offer peer support curriculum consulting that helps you tailor courses to the needs of healthcare professionals and individuals with loved ones in recovery. Ginger Ross, our consultant, focuses on the overall course blueprint to design a curriculum that effectively educates trainees and promotes personal self-development. Implement teaching strategies and establish learning objectives that help professionals provide the best service to people in recovery from substance use problems.
Keynote Speaker for Your Event
Ginger Ross is also an addiction recovery keynote speaker presenting invaluable information and insights about substance use. She shares her story of overcoming alcohol addiction that will resonate with your event's attendees. Her presentation lets people see addiction recovery more positively and helps improve relationships with people who have a substance use disorder.
Book Ginger as your keynote speaker, and let her presentation open people's eyes to the truth about addiction and recovery.
Training Courses That Strengthen the Workforce
CHOICES provides workforce development and community addiction and recovery education to reduce the negative impression of addiction. We also help you develop the necessary skills and knowledge to guide someone to improved health and well-being.
CHOICES has pioneered peer recovery coach and peer support training since 2018. We provide necessary courses to meet state peer recovery support credentialing and build a strong workforce. This new profession is bridging the gaps in recovery support.
Peer recovery coaches and peer specialists bring valuable lived experience, either as a family member, a person with mental illness, substance use disorder, trauma, or something else. The success of their journey is shared with those seeking improved health and well-being.
CHOICES Courses are Ideal For:
Culture, Diversity, & Inclusion
CHOICES is pioneering the way to educate communities through Addiction & Recovery 101, congregations through the Recovery Informed Congregations series, and the Latino population through the first fully Spanish-speaking peer training in the country.
VIEW OUR TRAINING COURSES.
Choices is approved by the Connecticut Certification Board.
May, 2023 Choices is pleased to announce all courses in our peer support training library are approved and recognized in Connecticut. If you need CEs visit our Upcoming Courses page. Or if you wish to learn more about how to bring a Choices training to your agency in CT. Contact us!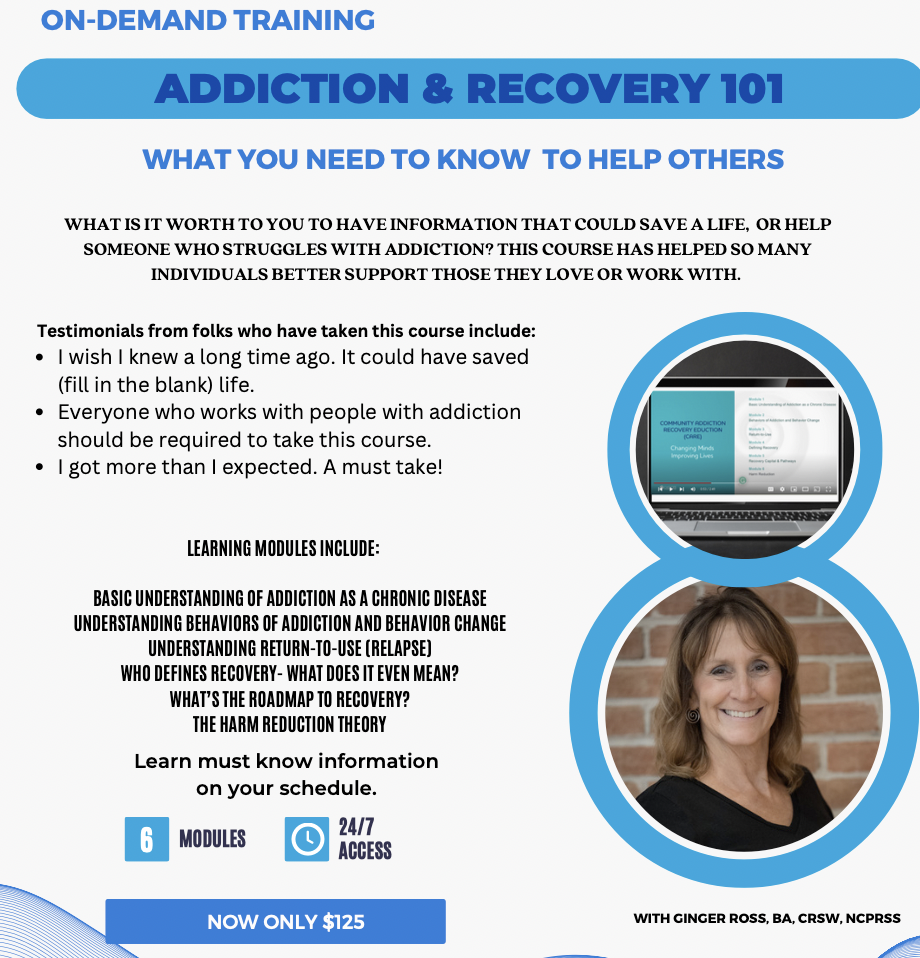 Understanding Addiction & Recovery
$125.00
Understanding Addiction & Recovery
This course is for community partners and loved ones who work with or love someone struggling with addiction. Understand how addiction and recovery work so you can provide support. This six-part course is now available on demand for you to watch when it is convenient for you.
Powerful Statements from People Who Have Taken This Course
Fully Spanish-Speaking 30-Hour Peer Recovery Coach Training
We offer a fully Spanish-speaking 30-hour peer recovery coach training course that helps remove health disparities among the Latino population. This course is approved by the National Association for Alcoholism and Drug Abuse Counselors (NAADAC) and is also approved in many states.
CHOICES 30-Hour Peer Recovery Coach Training helps you build your Spanish-speaking peer workforce and serve the Latino population. Our fierce peer advocates, Alex Fidalgo and Daisy Hernandez will deliver a powerful training session to help strengthen your community. Visit this page or contact us to learn more today.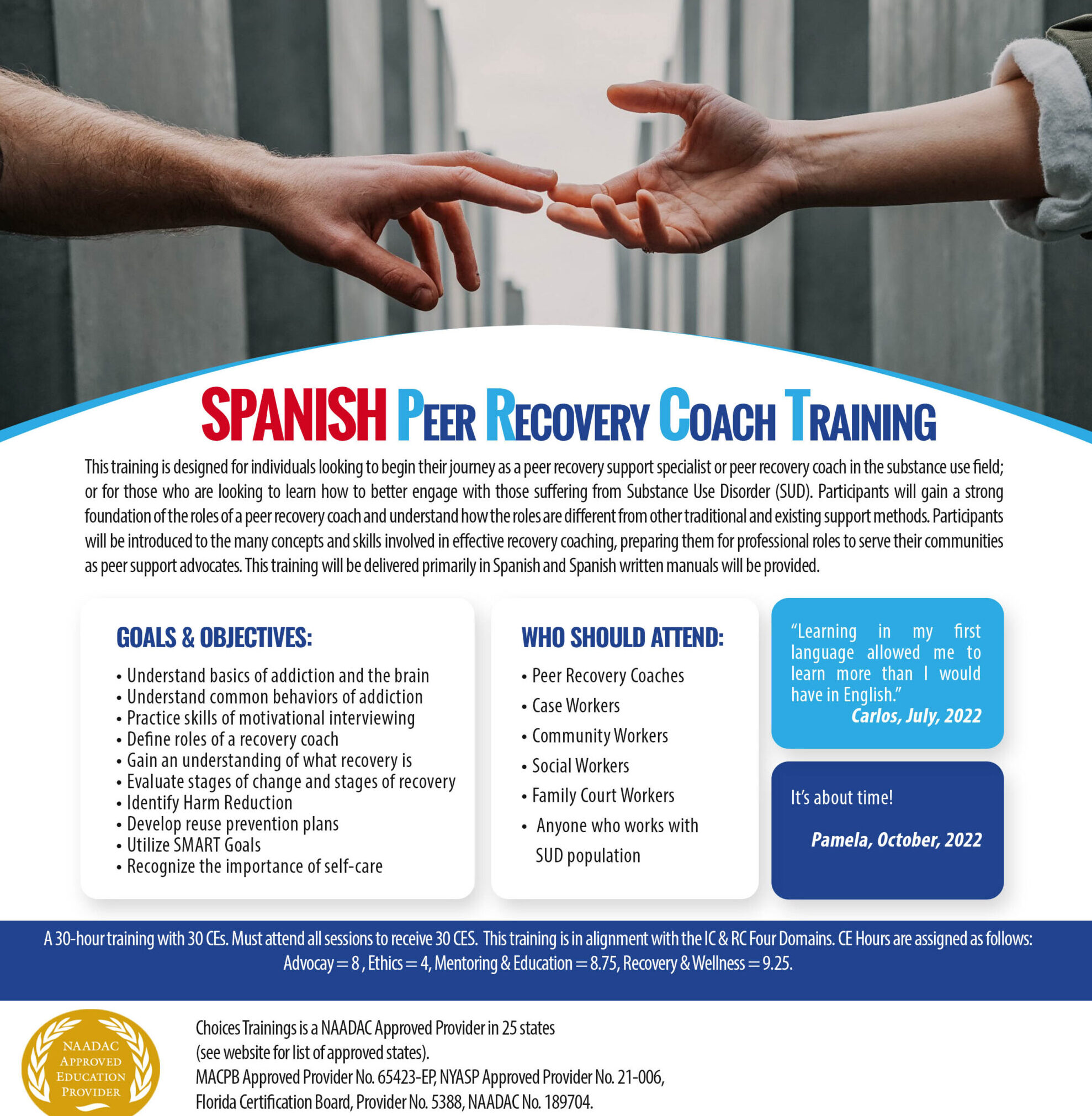 Spanish Speaking Peer Recovery Coach Training
$425.00
Christian Peer Recovery Coach Training
$400.00
Recovery Informed Congregations
Our three-tiered Recovery Informed Congregation program bridges the gap between the faith community and those who struggle with addiction and recovery. For more information about the tiers in this program, visit here. Please reach out to us to learn how this program can make the changes you've been asking for.
What you learn could save a life.
What courses should you take for your state?
Identifying what courses to take to meet your state's requirements can be confusing. To help you make the right choice, we've laid out the suggested courses for Colorado, Connecticut, Florida, Maine, Maryland, New Hampshire, and New York.
See Our State Bundles
Can't find what you're looking for?
Contact us
for help.
Train with experienced professionals. All CHOICES trainers are seasoned, passionate peer coaches who know the realities of Substance Use Disorder (SUD) and mental health.
We update the CHOICES curriculum regularly to meet the evolving demands of the role and keep community partners up to date.
We offer live virtual training sessions regularly. We are NAADAC-approved and meet the criteria for many states.
CHOICES has trained thousands of individuals nationwide to help them step into the role of support for someone with SUD.
"This is awesome – information is power, indeed. Thanks Ginger. 🙂 Also, I wanted to thank you for your guidance and time you gave at the Ethic's class this week. I have learned so much during the training that help open my eyes; I can't wait for your upcoming classes."
- Julia
CEO
"Thanks, for your time and insight, on ethics….I really enjoy the way you and Elizabeth, teach."
- Bruce
CEO
"Congratulations Recovery Coach Academy Class of 2017.! I was blessed to meet all of you. I learned a lot from each of you and for that I am grateful. As we continue with our different journeys remember to take care of you by refueling along the way. To Nelson and Ginger good job!"
- Jershua
CEO
"Thank you Ginger! I just did it! I really enjoyed your class and you did a great job."
- Michael
CEO
"I just wanted to send a quick thank you. The RCA course came at a time when I had just switched over to my new job and unsure if it was a good fit for me but the class taught me how to talk to people in a way I was blind to and also…"
- Shaun
CEO